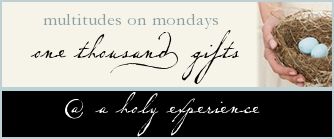 * God who gives us a way back
* family's forgiveness after my anger yesterday
* husband who does mission work
* my son finally got his car and God, it is a good one! Thank you.
* quiet
* my new journal to record my gifts
My gifts lists are scattered about in several places, some numbered, some not. I am going to put them all in the journal above, number them and really commit to the practice of gratitude in my life.
I'm like the Israelites in the desert, complaining about what I don't have instead of being grateful for what I do have. Humble me, God. Forgive me, Father. Restore me.