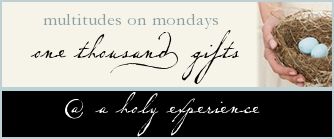 church and worship
GoBible
answered prayers: God has given me motivation here at home!
books
chiropractor who can help with neck problems (which means fewer migraines)
self education
The Hobbit
early mornings
exercising
dreams
prayer journal, prayer cards
scripture spiral
and other
prayer journals
memorizing
Night Hours
Giving thanks is hard! I don't understand why, but sometimes it is so hard.